Small Game Fishing in Mauritius with Captain Vic
Come and try a finer method of fishing, with fish that are just as combative!
In Winter, from April to september, we can target smaller fish. Using light tackle, we can catch YellowFin Tuna, Skipjack Tuna, Wahoo and Dorado.
Don't get me wrong, these fish are powerful, and our equipment is too, guarantying a good fight.
We use different techniques and spots, sometimes close to the reef and sometimes in the deep sea, depending on the season and the fish we are looking for. Trolling with artificial lures on the surface or deeper with the downrigger, casting with popper and jigging.
Whether you are an experienced Fisherman or a beginner, you will enjoy it for sure.  
Good way to initiate children to fishing. We use proper equipment for smaller fish, so your children can learn safely and enjoy a good time with you !
A good surprise, we always bring a big fishing rod in case if a marlin show up.

 
Private trip
Aboard Golden Wave II
25 foot Panga boat
Half day - Rs 15,000
Departure time varies dependably on the season, we usually start before sunrise, or afternoon trip until sunset, the best time to catch tunas is sunrise and sunset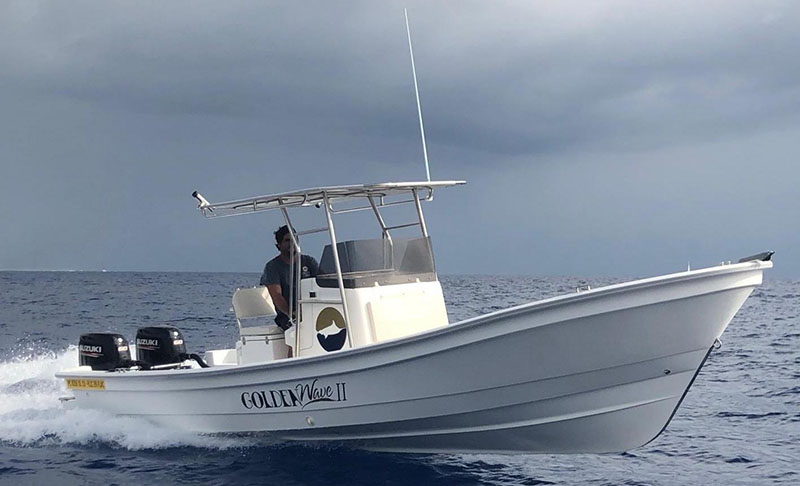 All our trips are all Inclusive with Soft drinks and snacks.
Fishing Equipment
Light tackle
Trolling fishing rods and reels, Shimano.
Jigging spinning rods and reels Penn
Casting rods Penn
Downrigger Cannon
1x80 lbs Okuma Makaira Big Game Fishing Rod (in case if we see a Marlin)
Mahi - Mahi (Dolphin Fish)
Present all around the year in Mauritius, very good fight on light tackle, they live in shoals.
Small and big ones are present, the Mauritian record is 68lbs!
With beautiful colors, these fish jump a lot during the fight.
They can be caught using different techniques, pieces of Tuna, artifical baits, trolling, popping.
Wahoo
Also present all the year in Mauritius, close to the reef and in the deep sea.
Average weight 20-30lbs, the Mauritian record is 125lbs.
We use surface lures while trolling and deeper with Rappalas.
Strong fish, very sharp teeth, the Wahoo is one of the fastest fish in the world.
Tuna and Bonito
All year round, Tuna and Bonito can be found in Mauritius.
Skipjack Tuna, Yellowfin Tuna, Albacore tuna with average weights of 10 – 30bs.
These are pelagic fish living in shoals, principally in the deep sea.
A good fight when using popping, jigging or trolling!