Big Game Fishing in Mauritius with Captain Vic
Mauritius is THE destination for Big Game Fishing!
Mauritius is among the most prized destinations for Big Game Fishing in the world, with many fishing Records, including the largest Blue Marlin caught on 80lbs test line.
Located in the heart of the Indian Ocean, large predators like Marlin, Tuna, Mahi-Mahi, Wahoo and more species are present all the year.
On our Big Game Fishing trip, we are mainly looking for fish like Blue Marlin, Black Marlin, Yellow Fin Tuna, Wahoo and Dorado.
We principally troll with artificial lures at high speed and fresh bait like small Tuna as livebait or deadbait. Every year, grander (blue marlin more than 1000lbs) are caught in Mauritius.
We are located in the best place for fishing on the west coast of the island between Port Louis and Le Morne Brabant.

 
Private trip
Golden Wave III
42 foot sportfisher
6 guests
3 crew members
Half day (6am to 12pm): Rs 32,000
Day (6am to 4pm): Rs 45,000
Full day (6am to 6pm): Rs 60,000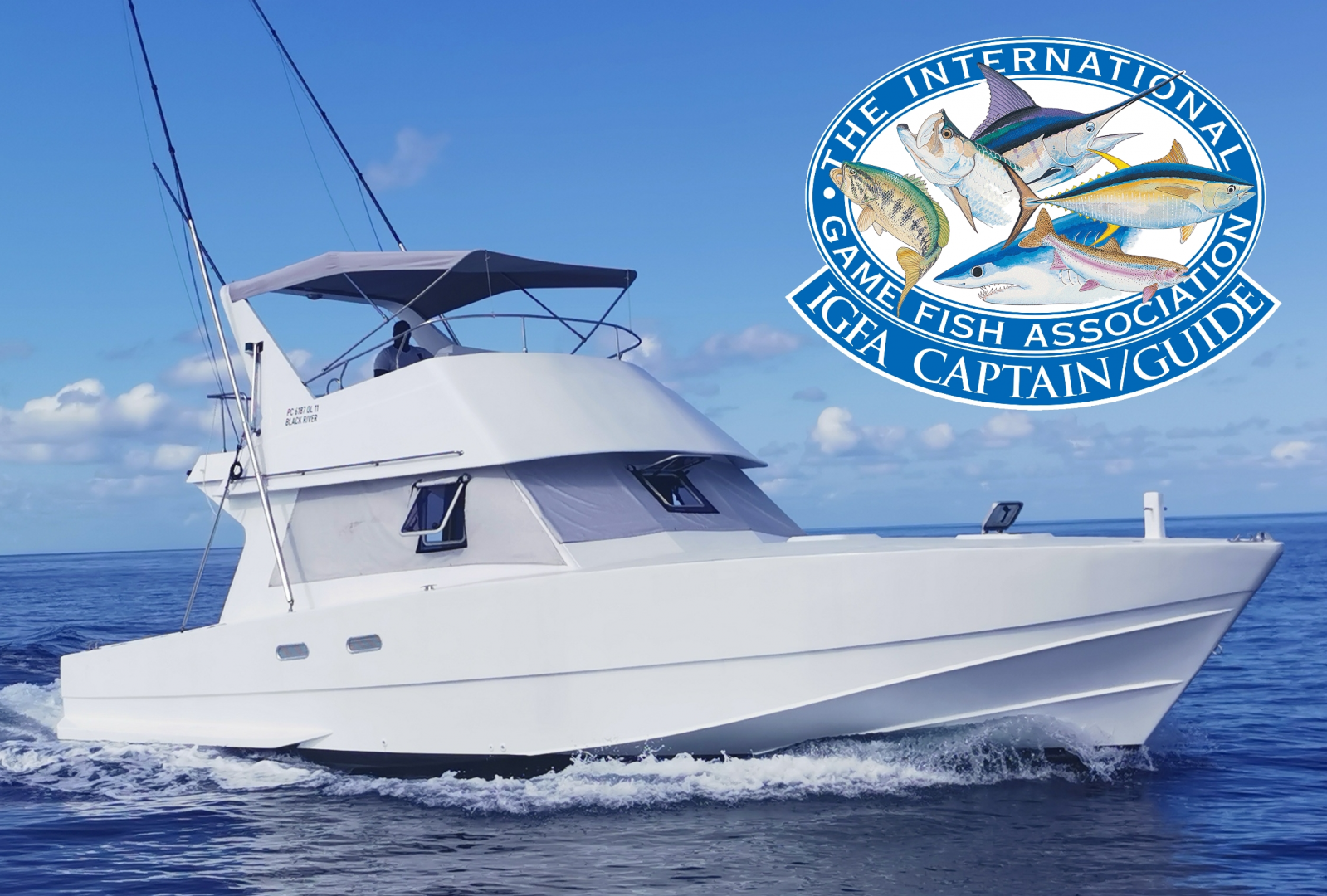 All our trips are all Inclusive with soft drinks and snacks. Sandwiches are included for the full day trip.
Fishing equipment
6x 80lbs
Shimano Tiagra, rods and reels
2x 50lbs
Shimano Tiagra reels and stand up rods
2x 30lbs
Okuma reels and stand up rods
Blue marlin teasers
All our equipment qualifies under IGFA rules.
Billfish
The Blue Marlin is present during Summer in Mauritius. He prefers warm water and follow hot currents.
The international IGFA world record on 130lbs line test is 1376lbs, the Mauritian record is 1355 lbs.
Mauritius still has the world record on 80lbs test line, 1270lbs!
The Black Marlin is found year round in Mauritius, but more common in winter.
From 100 lbs to 1560 lbs, the Mauritian record is 794 lbs.
We use the same technique to catch these species, trolling between 7 and 10 knots with artificial bait or trolling slower using livebait and deadbait.
We also can catch smaller bill fish such as Sailfish, Striped Marlin and Spearfish.
Tunas
For Tuna, we will target one specie during our Big Game Fishing trip.
The Big Yellowfin Tuna, which is present during the Mauritian summer.
 From 100 lbs to 212 lbs, which is the Mauritian record – the world record is 427lbs!
A very strong fighting fish, we mainly use artificial bait, using the downrigger or on the surface.
Tuna travel in a shoal, so we often catch several during our trips.